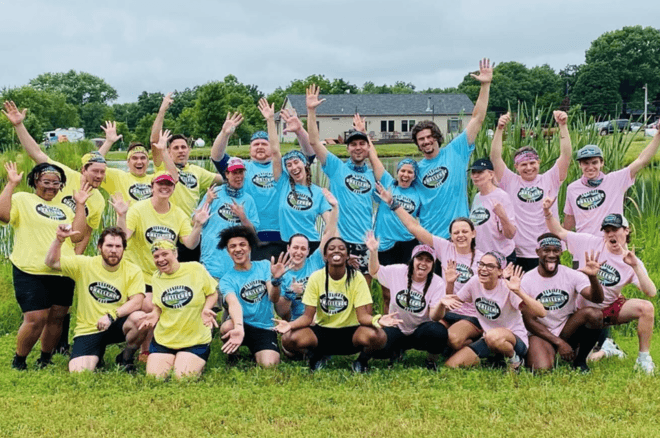 I reported my first World Series of Poker (WSOP) Main Event for PokerNews back in 2010, and for more than a decade, I've either reported on or played each Main Event since. However, this summer my 12-year streak came to an end when I left Las Vegas early.
The day the 2022 WSOP Main Event began, I flew back home to Wisconsin for a 48-hour recharge before heading out to compete in Season 9 of Survival Challenge, something I'd applied for and been cast on back in February.
Survival Challenge is a Live Reality Game (LRG), which is defined by Live Reality Games as "a gaming experience where players meet in real life, usually sequestered away from their normal lives, playing in games which are usually social, strategic, and/or physical in nature, but always competitive."
To put it in poker terms, if the actual Survivor TV show on CBS is the WSOP of reality games, then Survival Challenge was the equivalent of a mid-major. It was the same game, just not on the same level in terms of exposure and length. Even so, it was a legitimate experience, as a trio of actual former Survivor contestants – Donathan Hurley, Missy Byrd, and Denise Martin – told us as they were among the most recent Survival Challenge cast.
Below are some highlights from my adventure, which actually proved to have some unexpected connections to the poker world.
Survival Challenge Season 9 Tribes
AponiChapaWabazo Chad Holloway (Reedsburg, WI)Mike Allbright (Wilmington, OH)Jhorden Tennyson (Marcos, TX) Jacob Knepp (Bettendorf, IA)Baltazar Benavides (Philadelphia, PA)Jason Szczurowski (Linthicum Heights, MD) Donathan Hurley (Survivor Ghost Island)Callie Bearden (College Station, TX)Missy Byrd (Survivor Island of the Idols) Makenzi Berg (Central Square, NY)Kailey Maurer (Encinitas, CA)Alex Crooks (Omaha, NE) Matthew Brinkley (Los Angeles, CA)Isiah Kidd (Davenport, FL)Matt Kulper (Cranford, NJ) Molly Gallant (Tempe, AZ)Javin Drake (Greenwood, IN)Frances Hawes (Chippewa Falls, WI) Michelle May (Louisville, OH)Denise Martin (Survivor China)Cameron Daniel (Somerville, MA) Lauren Martino (Alta Loma, CA)Julie Andrews (Peachtree Corners, GA)Melanie Bartlett (Philadelphia, PA)
Learn more about Survival Challenge here!
Hiding My Profession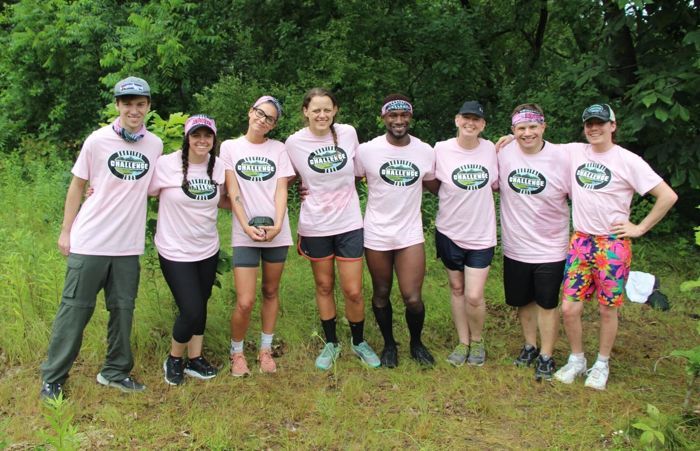 Myself (second from far right) on the Aponi Tribe.
Pregame I made a few strategic decisions about the game. First, I was going to shave and instead of revealing I was five months shy of being 40, I was going to tell everyone I just turned 30 (my babyface allowed me to run that bluff). I did this because in past seasons the older folks were first to go, and in Survival Challenge much like poker, 40 is old when competing against 20-somethings.
Second, I wasn't going to tell anyone about my poker life, instead opting to tell my tribemates that I worked at a Wisconsin comic book store. My lifelong fandom of comics, along with several tattoos advertising as much, was enough to sell another bluff. It's not that I was ashamed of my poker life, quite the contrary, it's just that traditionally poker players haven't fared well in Survivor and many people view the game as something it's not. I just wanted to avoid it altogether and come off less threatening.
Coincidentally, on the first night of the game, I was camped with Makenzi, Jacob, and former Survivor contestant Donathan. As we talked and got to know each other, 19-year-old Jacob revealed that he worked in casino banquets and his father played a lot of poker. Hmmmm.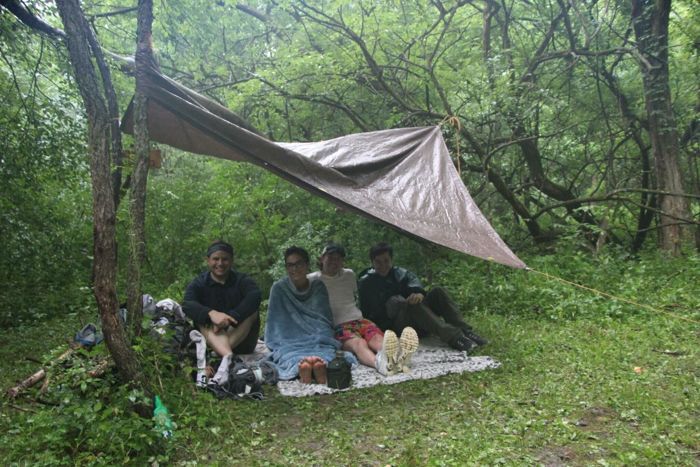 Chad camped out the first day w/ Makenzi, Donathan, and Jacob.
Then, Makenzi revealed that her dad was actually a professional poker player and she had dealt some of his home games. It was about this time I was shaking in my boots. Do they know poker well enough that they would know PokerNews and possibly myself? Did the producers intentionally put some folks well-versed in poker on my tribe to try and sniff out my bluff? That would make for compelling television.
Fortunately for me, my fears were soon relieved as it became clear they didn't know poker to the point where they'd know me, and as I learned after the game there was no producer conspiracy, it was pure coincidence.
Name Dropping Ronnie Bardah
The great Ronnie Bardah, a former Survivor contestant.
Speaking of poker players and Survival Challenge, there was a roundabout connection thanks to former Survivor Islands of the Idols alum Missy Byrd, who played in the same season as well-known poker pro Ronnie Bardah, a friend of mine.
Quick story – years ago at the WSOP, when rumors circulated that he was going to be on the upcoming season of Survivor (which had already filmed at that point) Bardah was showing two of his female friends around the Amazon Room. Upon seeing me, he introduced me to Elizabeth and, you guessed it, Missy.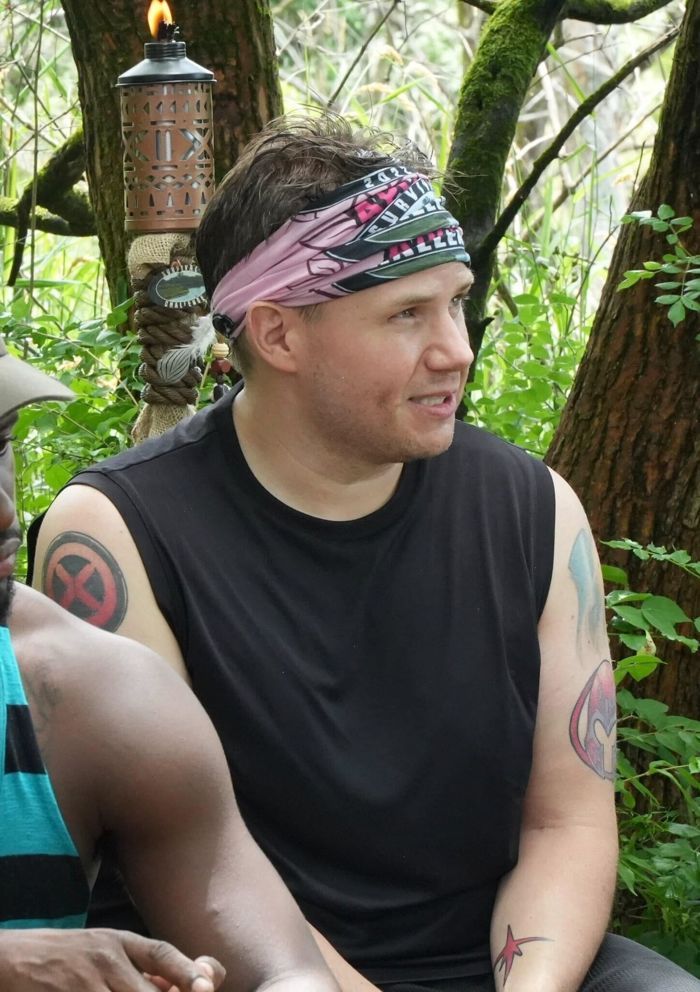 Chad Holloway
Given they'd never been to the WSOP before and didn't seem to grasp poker, I deduced they were probably castmates of his from Survivor, a suspicion that was confirmed when the season aired months later. It was a small connection, one she no doubt had no recollection of, but when I saw Missy was in the same season of Survival Challenge as me I hoped to use the "Ronnie Bardah Connection" to my advantage. Oh boy, did that plan backfire!
After our tribe, who had to go to Tribal Council and vote someone out that night, won a pair of tarps in a reward challenge, some negotiations began with the other two tribes. Missy's tribe, Wabazo, had won two flints and wanted to trade one of them for one of our tarps. They had also won the privilege of giving one member of our tribe immunity at the upcoming tribal council.
Usually trading a tarp for a flint would be a fair trade, but given it had been raining for 24 hours and there was no dry wood to be had, the odds of starting a fire were akin to hitting a one outer on the river.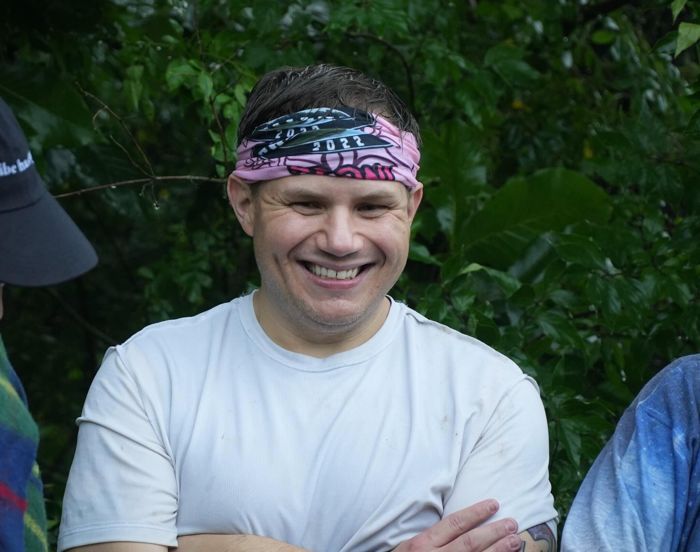 Chad Holloway on Survival Challenge
On the flip side, it was apparent a big thunderstorm was brewing and it was going to be a long, wet night. Trading away one of our tarps didn't make much sense on a practical level (we were never going to get a fire with that flint), but on a human level perhaps it would be a goodwill gesture, or so some on my tribe thought.
Missy Byrd
Long story short, Missy pulled Makenzi aside and offered her immunity to agree to the trade. She then, in full public view of all tribes, made the same offer to all of us, essentially, "Whoever agrees to the trade first we will give immunity."
I was none too pleased, viewing the public offer as a tactic to divide our tribe. Things got a bit heated and we exchanged some words that went something like this (I'll have to wait to see the footage to know the exact words):
Missy: You guys are going to suffer without a fire.
Me: Well, we're already suffering as we have to vote one of us out tonight and your tribe has been winning all day, so now you might as well suffer too.
It wasn't the most diplomatic move, but I was shutting down the negotiations knowing full well the Wabazo tribe would be sitting in the pouring rain all night long. Needless to say, I successfully pissed eight people in the game just like that!
The Wabazo tribe I stranded without a tarp. Sorry, all!
In a lame attempt to help soothe the situation – remember, I hoped to work with Missy later in the game if the opportunity arose – I decided to name-drop Ronnie Bardah. I didn't think anyone else in the game would pick up on the poker connection, but Missy might recognize we had that common thread.
"It's what Ronnie Bardah would do," I said.
It was like pouring gasoline on a fire.
"Ronnie wouldn't do that," Missy shot back. "I'll call him."
So much for working with Missy!
The "tarp" negotiation would ultimately be one of my defining moments in the game, arguably a villain moment I suppose, but I do know that at the end of the day if we didn't have both tarps, half our tribe would've been soaked and wet that night. I still think it was the right call on our part, I just wish I'd have declined a little more gracefully.
Nick Petrangelo Story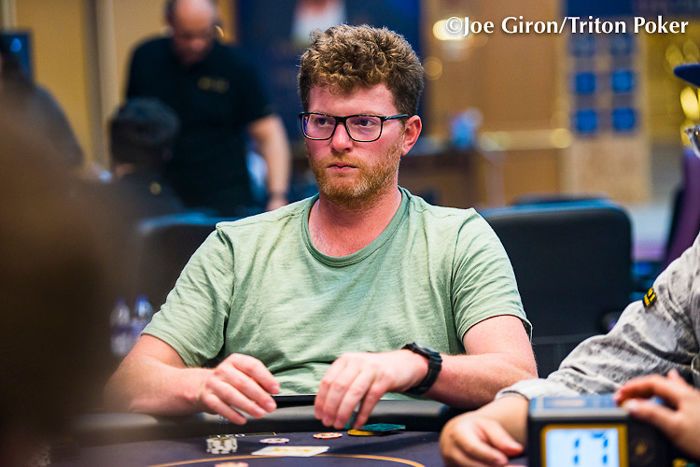 Nick Petrangelo
With more than $24.3 million in lifetime earnings, Nick Petrangelo sits 27th on poker's all-time money list, and second on the Massachusetts all-time money list behind Daniel Colman. Given Petrangelo is from the Northeast, and Survival Challenge originated in Maine as the Durham Warriors Survival Challenge (it changed names in Season 6 upon relocating to central Illinois), there was a coincidental connection.
As I learned after the game, one of the producers, Andy Baker, actually knew Petrangelo.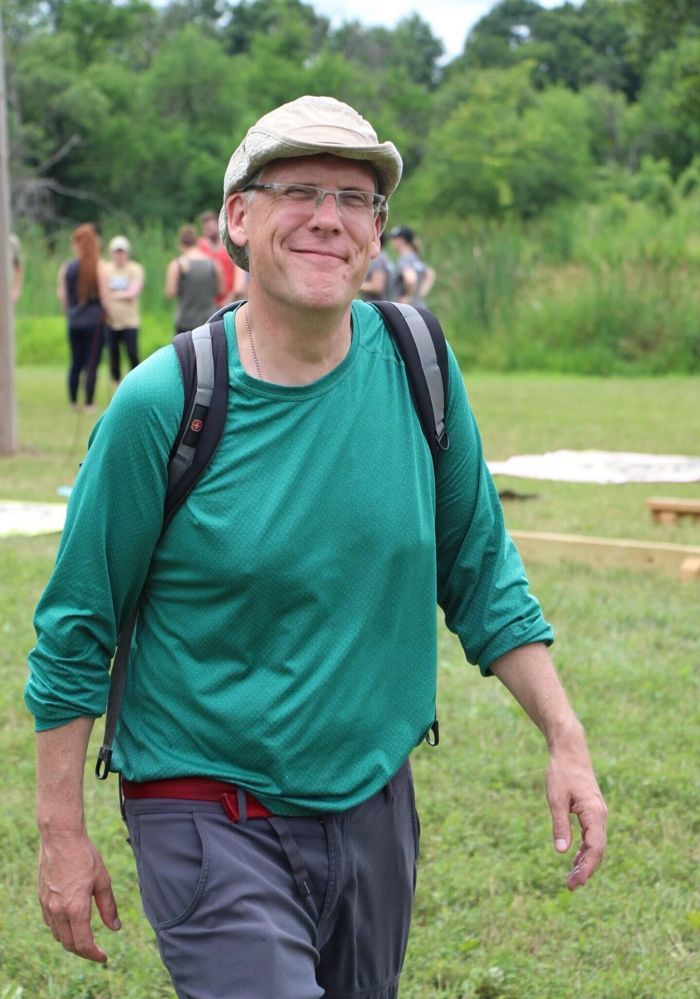 Survival Challenge's Andy Baker
"I was an English teacher and dorm parent at Loomis Chaffee, a boarding school in Connecticut," Baker told me. "Nick lived on my hall and was one of my advisees. He started playing poker back then — and was getting very, very good. He was headed to Skidmore after graduation — his parents, both who hadn't gone to college, did not want him to throw away his educational opportunity (he was also a golf player — hockey, too, I think)."
He continued: "So he went — but was conflicted about poker (his parents didn't approve). He was good, though, and on his way to great. When he asked me what he should do, I told him he needed to thread the needle: honor his parents, but also honor his gifts. I think he did just that — graduating from college… and becoming one of the best players in the world."
Indeed, Petrangelo went on to become a major force in the poker industry, and while Baker and his wife were and remain "very fond of Nick," we now know what they knew back then – that Petrangelo is both smart and funny.
Nick, if you're reading this, do both Andy and me a favor and apply for Survival Challenge! It'd be fun and give me something else to write about!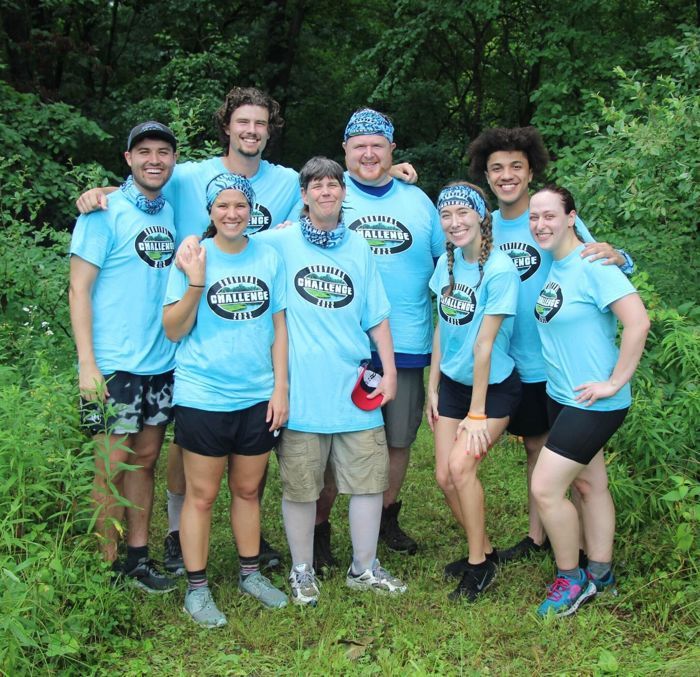 The Chapa Tribe
How'd I Do?
Eventually, episodes of Season 9 will become available on the Survival Challenge YouTube channel, though it may be a while as it's a lengthy editing process. I look forward to seeing how it all comes together. In the meantime, I will share some highlights from my experience:
I performed better in the physical challenges than I anticipated (I suffered a Grade 2 hamstring tear just two weeks prior). I had some "hero" moments if you will closing out a few challenges, but also one big fail where I cost our tribe a win. Like a poker tournament, Survival Challenge was filled with some highs and lows. Michelle, my closest ally, I will never forget our time up on those slippery barrels or how we swiftly crossed that balancing beam.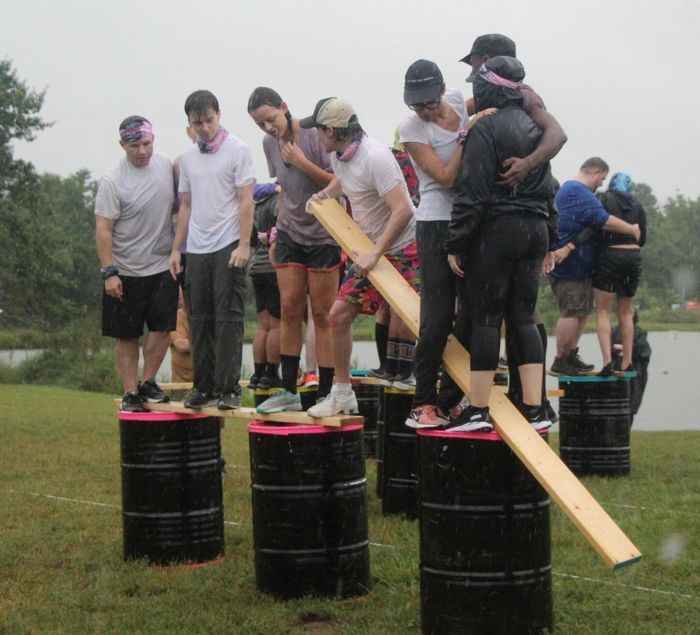 Our first challenge as the Aponi Tribe!
My favorite challenge was when we had to get out the entire tribe across a pond on two unstable floating barrels while grabbing rings along the way. I was last to go and deathly afraid I was going to struggle and let my tribe down, but instead, all my kayaking experience paid off as I immediately found my balance and cruised across.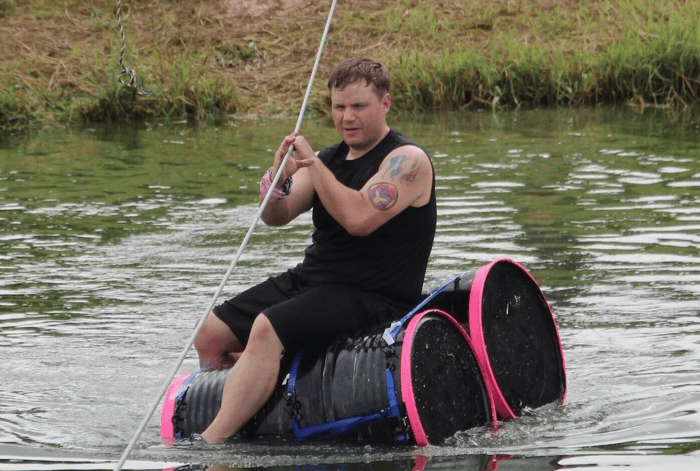 Participating in my favorite challenge!
I competed in a nasty food challenge that consisted of sardines covered in hot sauce, oyster crackers, and a blend of dried crickets and mealworms. It wasn't as bad as I expected (I managed to get a plate and a half down), but it was far from good.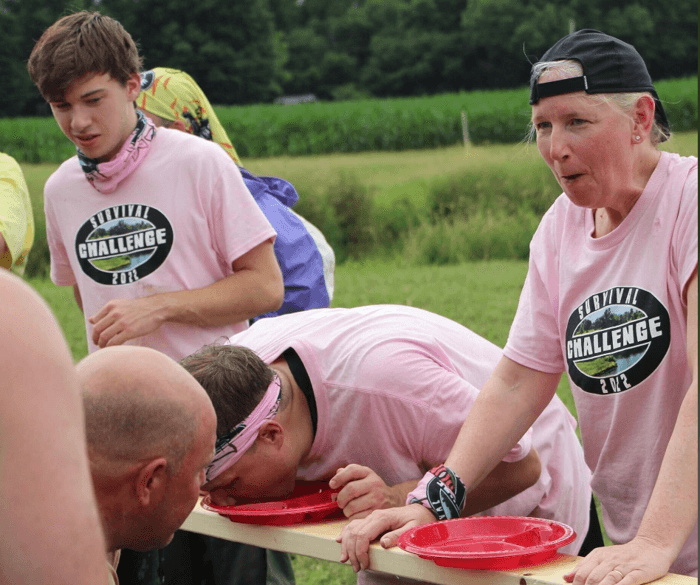 The nasty food challenge.I deduced that one member of our tribe had found a hidden immunity idol and successfully turned my tribe against her to execute the game's first big blindside.
I was a part of an unprecedented 1-1-1-1 tie vote, though it ultimately led to my demise and I failed to take advantage of a clear GTO spot (what can I say, making the hard decisions isn't as easy with no food and a lack of sleep. You gave me a chance to get you Molly, but instead you got me!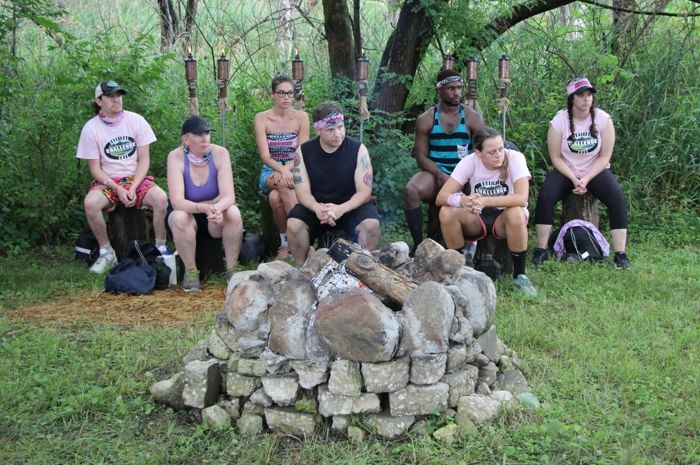 The Aponi Tribe at Tribal CouncilOur tribe lost a lot out of the gate so we were forced to play fast right away. I ended up being the eighth person voted out of the game, albeit the fifth on our eight-person tribe. As a result, I survived more tribal councils than anyone else in the game pre-merge. I was also the first person in the game to cast a vote against the ultimate winner (who played great and really deserved the victory – I don't want to spoil who won for those who may watch at a later date).My flame didn't burn as long as I'd have liked in the game, but I feel it burned bright while I was there. I wasn't afraid to tell a lie, make some moves, and do what I felt needed to be done.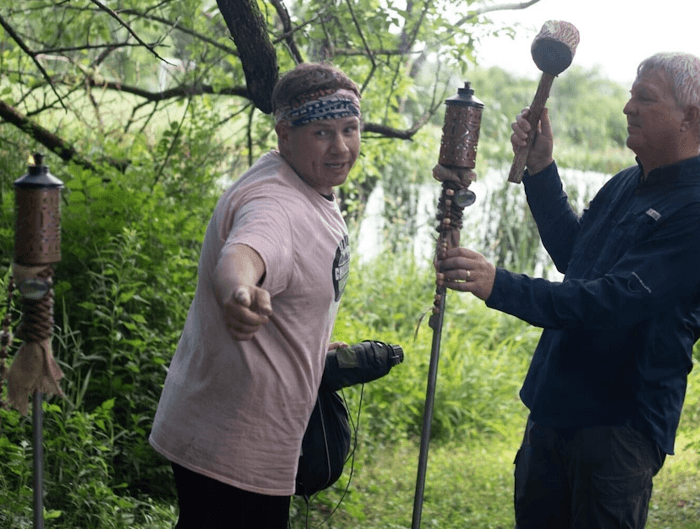 The great John Vataha snuffs my torch.
I want to say that it was a pleasure to get to play with Makenzi, Jacob, Michelle, Matthew, Molly, Lauren, and Donathan, and to play against the other 16 contestants on the other tribes. It was my honor to be a part of such an amazing adventure with you all.
Similarly, a special thank you to Andy Baker, Kathiu Dubar, Hannah Fleming, Jenn Gallagher, Bobby Hunter, Evan "Shrugs" Johnson, Ryan Kaiser, Justin MCCoubry, and host John Vataha, along with the dozens of other volunteers. I can't even begin to express my gratitude for what you all did to allow me and the others a truly wonderful experience.
Shout out to the Survival Challenge Season 9 volunteers!
Survival Challenge was simply incredible, one that I will cherish for the rest of my life and would absolutely do again if the opportunity arises. It ranks right up there with winning my WSOP gold bracelet, and I'm not exaggerating. While I'm used to competing on the poker felt, it was a blast to get out in the elements and play a different sort of game. If you're interested in trying out for Survival Challenge, applications for the upcoming season are expected to open in early 2023.
To all my fellow Season 9 competitors, the production crew, and volunteers I'll simply say to you a common poker phrase – "Good game!"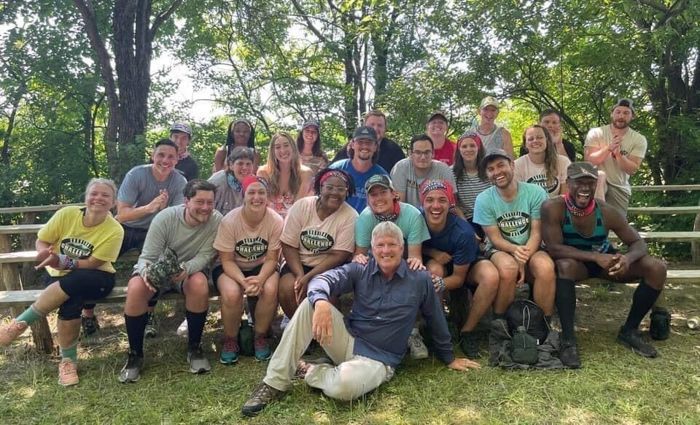 The Survival Challenge Season 9 cast & host John Vataha.
Like the Survival Challenge FB Page here for more content!

Chad Holloway
Executive Editor U.S.
Executive Editor US, PokerNews Podcast co-host & 2013 WSOP Bracelet Winner.